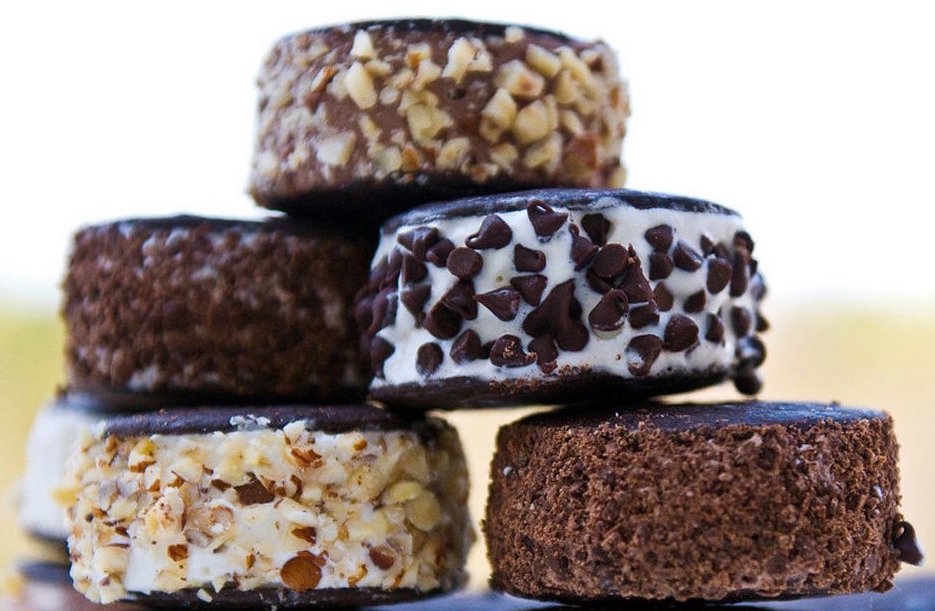 Be Cool This Summer: Gluten-free Ice Cream Sandwiches
Ice Cream is a delicious treat any time of the year. But summer is the perfect season for ice cream sandwiches. If you have a gluten intolerance, you've probably had to pass them by. Now, you can once again indulge in this old–fashioned favourite. Enjoy our gluten–free ice cream sandwiches, and you'll never feel deprived. Our cookies are full of rich, chocolate flavour with none of the chemical taste or preservatives of the store–bought variety. You get to choose the ice cream filling, so let your imagination soar with all the possibilities—mint chocolate chip, coffee, strawberry, toffee crunch, checkerboard of vanilla and chocolate. Can't wait? You won't miss those stale old ice cream sandwiches from the corner store ever again. This recipe serves approximately 12 mouth watering filled sandwiches.
Ingredients:
¾ cup organic sweet butter
2 Tbls Agave, maple syrup
1 large organic egg
1 teaspoon vanilla powder
1½ cups brown rice flour mix*
½ cup sweet rice flour*
½ cup Cacao powder
1 teaspoon baking powder
1 teaspoon baking soda
¼ teaspoon sea salt
1 teaspoon xanthan gum
Baking spray to grease cookie sheets
Filling:
You favourite organic ice cream, ours is Earnest Ice Cream!
Directions:
Preheat oven to 350°F. Lightly grease cookie sheet with baking spray.
Beat butter and sugar at medium speed in large bowl of electric mixer until well–blended. Add egg and vanilla powder and beat well.
Add flours, Cacao powder, baking powder, baking soda, salt, and xanthan gum, and mix until a soft dough is formed.
To shape into a rectangular solid (for traditional shaped ice cream sandwiches), drop dough in a mound on large sheet of plastic wrap. Fold the plastic over the dough and shape into a long log 2½" high by 2½" wide by 6" long using plastic to flatten ends. Try to smooth dough with your fingers. Refrigerate roll until well–chilled. Unbaked dough can be kept in refrigerator for up to three days or frozen for up to two months. To freeze, wrap plastic–wrapped log of dough in foil.
Using a thin, sharp knife, slice chilled dough into ¼ inch slices and place onto lightly greased cookie sheet 1 inch apart. Bake in center of oven for about 11–12 minutes until cooked through. (Cook 1–2 minutes extra for a crisper cookie). Cool slightly on cookie sheet and transfer to wire rack to cool completely.
Cut ice cream into squares 1" to 1½" thick. Place ice cream on one side of a cookie and cover with another cookie. Wrap each sandwich in plastic wrap and store in airtight container in freezer. Cookies and ice cream can also be kept separately and put together just before serving.
Cook's note:
For round ice cream sandwiches, mound dough on plastic wrap, fold the plastic over the dough, and shape it into a round log 3" diameter by 6" long. Spoon ice cream onto one side of a cookie and cover with another cookie.
The edges of each ice cream sandwich can be dipped into coconut, nuts, dried fruit, cacao nibs for an extra added treat!
*see "Gluten–Free Flour Mixes" in this Recipe Archive
** Available in natural food stores or online from Authentic Foods (see "Gluten–Free Flour Mixes" in this Recipe Archive) or other vendors.