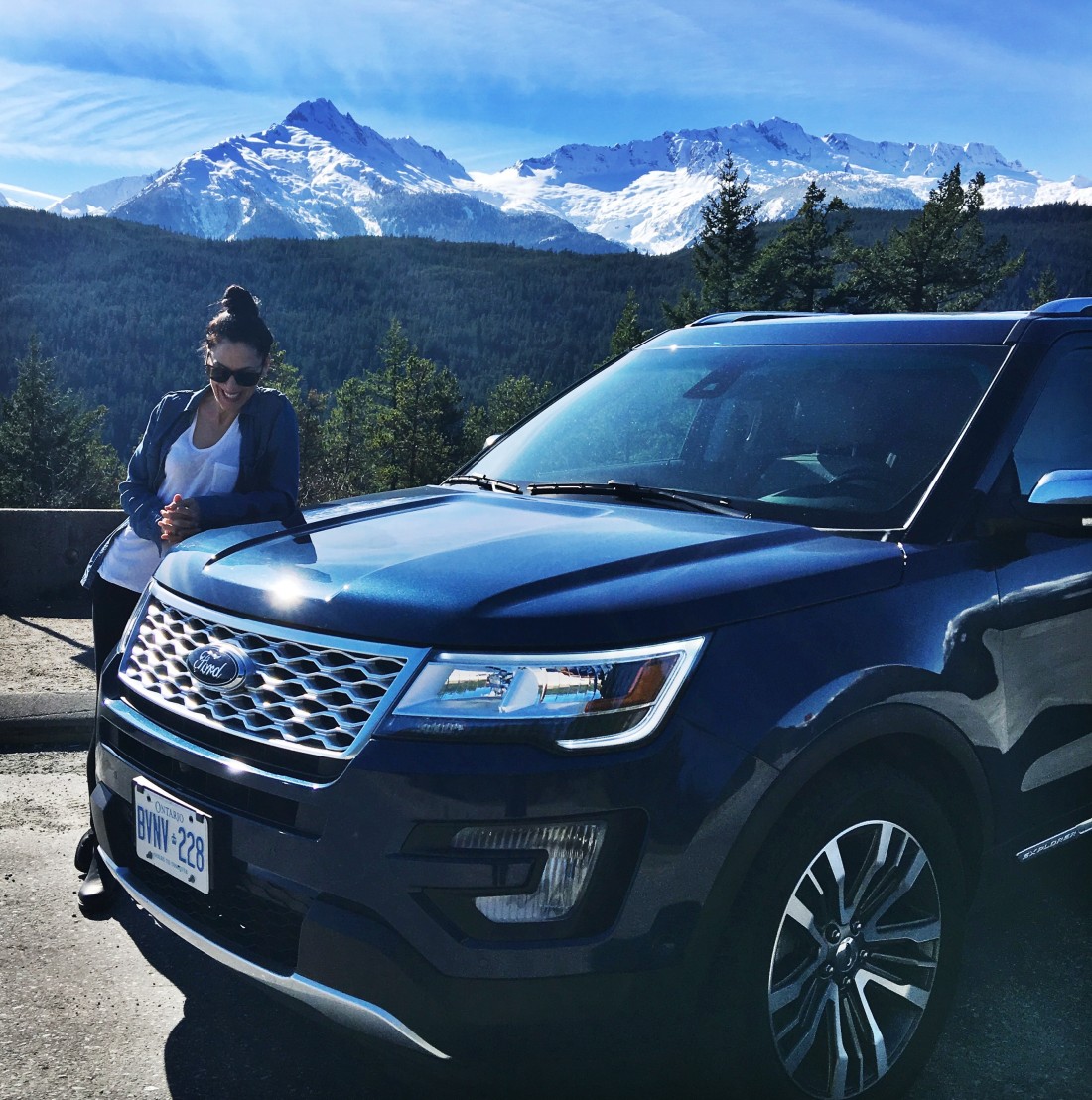 HOW TO LIVE A HEALTHY LIFESTYLE WITH THE FORD EXPLORER PLATINUM 2016
It doesn't really matter what you do for a living but if you own a car, chances are you probably spend chunks of hours in it on a weekly basis. While this is normal, most remain unaware of the health issues that slowly creep in over time; partly due to the simple fact that we forget to regularly exercise the moment we start driving.
You probably didn't know this but the type of car you own can potentially be the thin line between a healthy and unhealthy lifestyle. There are cars that enhance a healthy lifestyle – such as the 2016 Ford Explorer Platinum, which I recently took on a restorative trip up to Whistler's Scandinave Spa. The Explorer Platinum felt like one of the "healthiest cars" I've ever driven. Wondering how? Read on to learn about a few key factors that illustrate the iconic Ford SUV's ability to enhance a healthy lifestyle.
One of the main reasons why people suffer from fatigue while in transit is due to being cramped up in a compact car for extended periods of time. Sound familiar now? Unknowingly, pressure is exerted on the joints and before long, joints such as the knees can begin caving in slowly – more so for routine car drivers and passengers. Therefore, it would be in your best interest to consider going for a more comfortable and roomy vehicle that allows you to stretch often and even engage body muscles while driving.
I love that the Explorer Explorer Platinum's interior basically paints a picture of how a healthy car should look like thanks to a number of health-oriented additions. For instance, the designers managed to carve out significant knee room in both the first and second rows by fitting in slimmer front seats; without compromising comfort in any way. That's not the best part though. The third row is one of the best you can ever find in an SUV. With the third row Powerfold® feature you have the ability to adjust seat space to suit your lifestyle needs with just the push of a button – no struggling to take the third row out when you need space in the trunk.
Picking a car that supports your health should be coupled with healthy decisions and preparation for those times you'll be on the road. Here are three healthy items you should always have stocked in your SUV:
Lots of H2O – your overall health is pegged to safe driving otherwise all the regular workouts and trips to the gym are basically meaningless. Staying hydrated is a paramount aspect of safety while driving as dehydration is known to cause sleepiness hence making it hazardous to the driver. Before getting into the driver's seat, always have an extra large bottle of water in one of the numerous compartments of your Ford SUV.
A First Aid Kit – the importance of a first aid kit in your car can never be emphasized enough. Always keep a well-stocked kit somewhere within the confines of your SUV that includes gauze, Band-Aids and ice packs. Also, remember to pull over if not feeling well, or if you need to take a call.
Healthy Snacks – it is always advisable to store packs of dry snacks – such as nuts and dried fruit to keep you energized through long drives. Opt for dry goods because the heat can cause spoilage of perishable foods. Make healthy choices by watching the sugar count of every snack you decide to stock your SUV with.
Staying healthy as a regular driver is quite easy with the above tips. There are also a myriad of small but effective exercises you can do as you drive. For example, focus on engaging your abs as your Explorer Platinum parks itself with the innovative enhanced active park assist with parallel parking. Perks like park assist and massage seats were paired with the safety features like the collision warning system with brake support that alerts you if it senses a potential collision with the car in front of you. I enjoyed driving the 2016 Ford Explorer Platinum and appreciated that this SUV compliments a healthy lifestyle.